These are the stories from some of our staff about why they treat addiction and mental health.
---

Kimberly L. Dellinger, M.Ed., Executive Director
When I think about why I am working in the field of addiction prevention and treatment Inmost often think about my grandma. One of my earliest memories that I have of her is sitting in the front seat (let's not go there about car seat safety) of her green Grand Torino, blissfully happy to get to spend time with her. In that memory, she is smoking. She started smoking when she was in her twenties when smoking was advertised as a dieting strategy, to keep her trim figure. Never mind carcinogens and toxic chemicals that were slowly spreading into her body. It was the early eighties, so we didn't talk about children's exposure to second-hand smoke. It really wasn't on her radar as we blissfully drove down the road together.
My grandma was a strong-willed woman, who could debate with you for hours; she was sharply intelligent, with an acerbic wit that I see come out in myself on occasion. I see her face in my daughters and that sassiness comes through loud and clear. And the sparkle that I remember in her eye still makes me miss her.
She quit smoking in the 80's, but unfortunately, smoking didn't quit her. Fifty years of tobacco use took its toll on her body, and when I was a teenager, she was diagnosed with emphysema. I watched this wonderful woman slowly turn into a shell of her former self, eventually wasting away via sickness and dementia to a person who struggled with remembering who she was, let alone who we were.
Tobacco killed my grandmother. And it's because of her, and because my kids, and all of the other families impacted by addiction that I do what I do every day.
---
Romina Abawi-Wooten, M.A., CSAC, NCC, Interim Clinical Director
I was first introduced to AA/NA when I was 16 years old, I had a friend in high school who was suffering from opiate addiction. I didn't really understand what that meant at the time, but I wanted to be a good friend and help him through his journey. He invited me a meeting one evening-little did I know that that evening would touch my life forever. I remember feeling so connected to the message, the energy, the vibe and meaning behind the big book. Though I didn't suffer from addiction, I found myself going to meetings for my own "spiritual awakening".
After graduation, I struggled to find my niche, passion, and calling- I went to school for psychology and found myself working in residential treatment facility for youth. I felt like I had come full circle when I started to work with youth, it took me back to my experiences in high school. I continued my education and earn a Master's degree in Mental Health Counseling and became certified as a Substance Abuse Counselor. I have been working in the field for roughly 15 years in some capacity and as a Substance Abuse Therapist for 8 years. I recently moved to Williamsburg 1 year ago and have been with Bacon Street since making the transition to Williamsburg.
---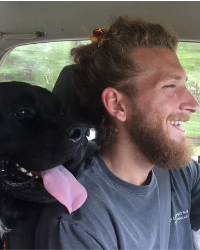 Ariel Tal, Clinician
My name is Ariel Tal. I have a bachelor's degree in Psychology with a minor in sociology and English as well as a Master's degree in marriage and family therapy from the College of William and Mary. I have been with Bacon Street since February of 2019, seven months of enjoyable work with individuals and families. I am a clinician at Bacon Street and provide individual psychotherapy to clients as well as prevention work in the local schools in the form of mindfulness instruction. Before I joined Bacon Street I did not have a background in addiction work. I took a few classes at William and Mary about addiction and I had a specific interest in addiction because of my personal research on Bill Wilson and the ties between addiction, philosophy and transpersonal psychology. My determination to seek out work in addiction came after I did a project about the physiological effects of addictive drugs on the human body and specifically the mistreatment of "addicts" in society. I thought to myself "what can I do to help?" – my solution came in the form of an opportunity, a contract clinician position at Bacon Street. I wanted an opportunity to both provide preventive community work as well as psychotherapy with families and individuals…Bacon Street was the perfect fit. To sum up my understanding of addiction work and the REASON I felt drawn to work with addiction I will provide the quote that inspired me to work with addiction… I don't remember where I heard/read the quote, but it has stayed with me through the years…"The opposite of addiction is not sobriety…the opposite of addiction is connection"
---
Retecka Bright, MA, Resident Clinician
I chose to treat addiction and substance abuse use disorders because of genuine compassion for people. When I entered the field of working with at-risk youth a little over 20 years. I have been working at Bacon Street for two and a half months and I can see how substance abuse is a major posterity and has grown as the years have passed. In working with at-risk youth and their families, I saw firsthand how substance abuse and mental health destroyed families. Hence, this is the reason my overall passion is helping hurting people in all capacities as a Clinician/Resident in Counseling. Although substance abuse is a major area of focus, I feel Mental Health awareness and education are essential.
---
Kristen Setty, MSW, Clinician
I started my journey in mental health after I graduated college in 2013 and I fell in love with it. One of the interesting things I began to learn along this journey was that many persons who suffer from a mental illness are also struggling with substance abuse as well. At the end of July, I decided to take a leap of faith and go to Bacon Street so that I would be able to start helping people not only with their mental health but helping them to overcome their struggle with substance abuse as well.
---
Allison Jarvis, Grants and Prevention Coordinator
I treat addiction so adolescents don't have to struggle like I did when I was their age. Having experienced my own substance dependence beginning in my high school years, I believed there was no other way to escape how I felt inside – that there was something inherently wrong with me. Even when I was most scared and wanted to change, the stigma of seeking help seemed insurmountable. So I kept using it until I overdosed. This left a brief impact on me, but a couple of years later I began using again. The void I was trying to fill was still a gaping hole.
It wasn't until I became pregnant that I stopped using, and I began seeing a therapist. They helped me understand I turned to substances to self-medicate away unaddressed trauma from my childhood, and that I was worthy of living a healthy and productive life. This inspired me to return to school where I received my BS in Human Services. Now I work in the prevention department of a non-profit agency that helps adolescents with substance use disorders and co-occurring mental health challenges. We provide the kind of nonjudgmental and empathic care and expertise I desperately needed when I was the age of our clients. I'm grateful to be able to help light a lamp on their paths towards hope and healing.
---