---
---
How You Can Help Bridge the Gap for Uninsured Families
Bacon Street is one of the few agencies in the greater Williamsburg area that provides mental health and substance use treatment services for youth, and we are the only agency providing a holistic approach to youth and family support — and we've been doing so since 1971.
Our outpatient treatment program is seen as a family-friendly, cost-effective alternative to long-term inpatient care. Last year, 932 youth and their family members received evidence-based, trauma-informed counseling from our clinicians.
But what happens when a family comes to us, desperate for help, and they simply can't afford to pay out of pocket?
For many families who are struggling financially without insurance, the cost of clinical services can be prohibitive. With the expansion of Medicaid in the state of Virginia, many more families qualify for coverage but getting enrolled can be problematic, and it can take some time. Until they receive coverage through Medicaid, they can still come to Bacon Street Youth and Family Services to receive counseling services. Donations cover the entire cost of their counseling session, making it possible for them to seek help when they need it, regardless of whether they have insurance or not.
Should a family lose their health insurance coverage for any reason, donations are used to cover the entire cost of their counseling sessions. They never have to worry about where to turn for help or worry about how the loss of their insurance will impact their ability to receive much-needed counseling services for their child.
Our counseling services have shown success and given parents relief in finding help for their child. As one parent said, "Sometimes you can do everything right as a parent, and it's just not enough. Sometimes you can do everything right as a parent, and it's just not enough. Your child is suffering. You're thrown into chaos and fear. This isn't a matter of 'kids will be kids.' It's a battle for your child's life." And we will fight for every child who walks through our doors to ensure that they receive the help and clinical services that they need.
The point is, we will never turn a client away, regardless of their ability to pay. Because we believe everyone deserves a bright future.
This year on #GivingTuesday, we are asking for the community's help so we can continue to offer help and hope to the youth and families across our region by providing these clinical services. And right now, your gift will be doubled through the generosity of an anonymous donor. Dollar for dollar, every single gift on #GivingTuesday will be matched to ensure a bright future for our youth — free of substance use.
---
---
Other Ways to Donate
Through the Combined Federal Campaign at cfcgiving.opm.gov. You can search for Bacon Street Youth and Family Services by name, or by CFC# 83157.
Designate Bacon Street Youth and Family Services through your employer's United Way Campaign.
Join us for Charity Fitness Night at Results Performance Training on December 3rd at 6 pm! For more information, see below!
---
Charity Fitness Night to Benefit Bacon Street Youth and Family Services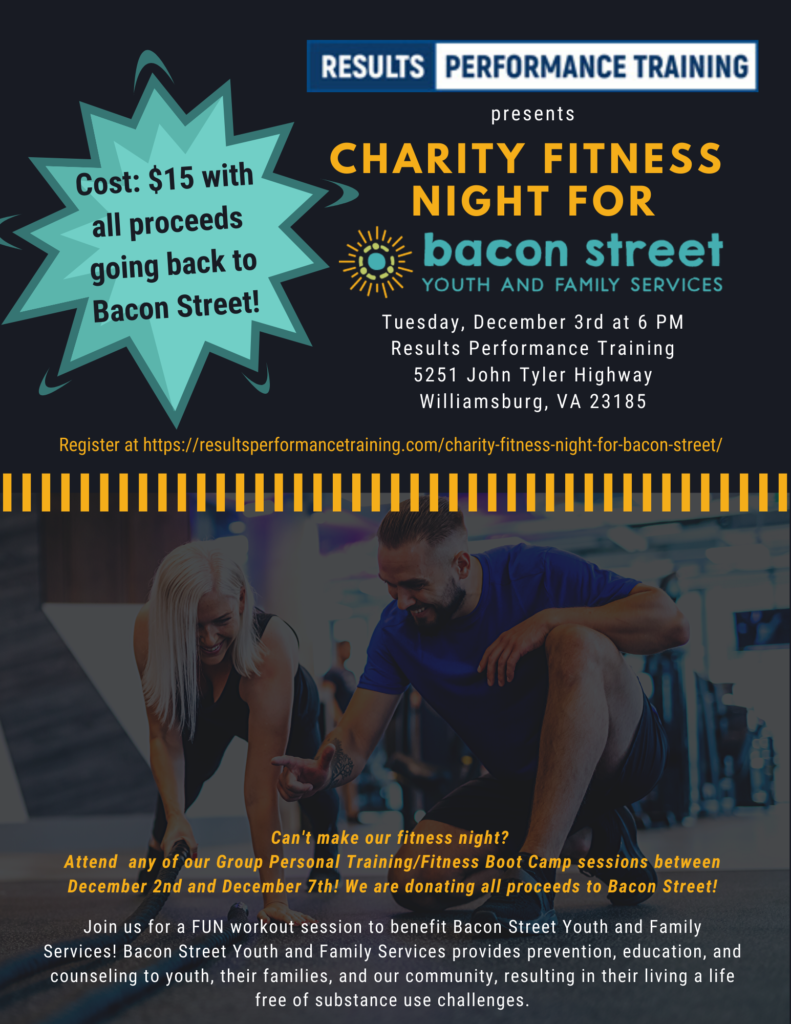 Get fired up for a fun fitness night at Results Performance Training!
100% of the proceeds benefit Bacon Street Youth and Family Services!
If you can't join us for fitness night, Results Performance Training has been generous enough to include any group personal training/fitness boot camp sessions between December 2nd and December 7th as well! The cost is $15, and you can register on their website.
---
Our Clinical Staff
Our clinical staff is dedicated to the work they do and make our clinical program a success. Learn more about them below, including why they treat.
Romina Abawi-Wooten, M.A., CSAC, NCC, Interim Clinical Director
I was first introduced to AA/NA when I was 16 years old, I had a friend in high school who was suffering from opiate addiction. I didn't really understand what that meant at the time, but I wanted to be a good friend and help him through his journey. He invited me a meeting one evening-little did I know that that evening would touch my life forever. I remember feeling so connected to the message, the energy, the vibe and meaning behind the big book. Though I didn't suffer from addiction, I found myself going to meetings for my own "spiritual awakening".
After graduation, I struggled to find my niche, passion, and calling- I went to school for psychology and found myself working in a residential treatment facility for youth. I felt like I had come full circle when I started to work with youth, it took me back to my experiences in high school. I continued my education and earn a Master's degree in Mental Health Counseling and became certified as a Substance Abuse Counselor. I have been working in the field for roughly 15 years in some capacity and as a Substance Abuse Therapist for 8 years. I recently moved to Williamsburg 1 year ago and have been with Bacon Street since making the transition to Williamsburg.
---
Ariel Tal, Clinician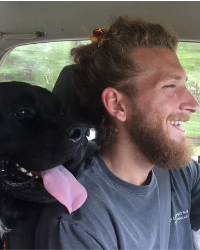 My name is Ariel Tal. I have a bachelor's degree in Psychology with a minor in sociology and English as well as a Master's degree in marriage and family therapy from the College of William and Mary. I have been with Bacon Street since February of 2019, seven months of enjoyable work with individuals and families. I am a clinician at Bacon Street and provide individual psychotherapy to clients as well as prevention work in the local schools in the form of mindfulness instruction. Before I joined Bacon Street I did not have a background in addiction work. I took a few classes at William and Mary about addiction and I had a specific interest in addiction because of my personal research on Bill Wilson and the ties between addiction, philosophy and transpersonal psychology. My determination to seek out work in addiction came after I did a project about the physiological effects of addictive drugs on the human body and specifically the mistreatment of "addicts" in society. I thought to myself "what can I do to help?" – my solution came in the form of an opportunity, a contract clinician position at Bacon Street. I wanted an opportunity to both provide preventive community work as well as psychotherapy with families and individuals…Bacon Street was the perfect fit. To sum up my understanding of addiction work and the REASON I felt drawn to work with addiction I will provide the quote that inspired me to work with addiction… I don't remember where I heard/read the quote, but it has stayed with me through the years…"The opposite of addiction is not sobriety…the opposite of addiction is connection."
---
Retecka Bright, MA, Resident Clinician
I chose to treat addiction and substance abuse use disorders because of genuine compassion for people. When I entered the field of working with at-risk youth a little over 20 years. I have been working at Bacon Street for two and a half months and I can see how substance abuse is a major posterity and has grown as the years have passed. In working with at-risk youth and their families, I saw firsthand how substance abuse and mental health destroyed families. Hence, this is the reason my overall passion is helping hurting people in all capacities as a Clinician/Resident in Counseling. Although substance abuse is a major area of focus, I feel Mental Health awareness and education are essential.
---
Kristen Setty, MSW, Clinician
I started my journey in mental health after I graduated college in 2013 and I fell in love with it. One of the interesting things I began to learn along this journey was that many persons who suffer from a mental illness are also struggling with substance abuse as well. At the end of July, I decided to take a leap of faith and go to Bacon Street so that I would be able to start helping people not only with their mental health but helping them to overcome their struggle with substance abuse as well.
---
---
To keep up with all of the latest Bacon Street news, consider signing up for our monthly newsletter!