Henry Ford. The Hewletts. The Packards. The Johnsons. Alexander Graham Bell. Milton S. Hershey. When you hear those names, we can automatically picture the product they created. But what product do you associate with the name Sackler? You might remember seeing it displayed on a wall somewhere in an art museum. Or on a prestigious university campus. You certainly don't associate the Sackler name with OxyContin. The Sacklers operate the American branch of their pharmaceutical empire under the name Purdue Pharma. Now does that sound familiar? It should. Purdue Pharma has been in the news a lot lately for their part in the opioid crisis from the manufacturing of the drug OxyContin. This week, we take a look at the history of this drug, the Sackler family, and why we are hearing their name all over the news.
Meet The Sacklers
Isaac Sackler and Sophie Greenberg were Jewish immigrants that arrived and settled in Brooklyn, New York. They had three sons: Arthur, Mortimer, and Raymond, who went on to purchase Purdue Frederick. In 2015, Forbes included the Sackler family on the list of America's richest family, estimating that the 20 Sackler family members share a fortune conservatively estimated at #14 billion. For more information on each and their role in Purdue Pharma, see below.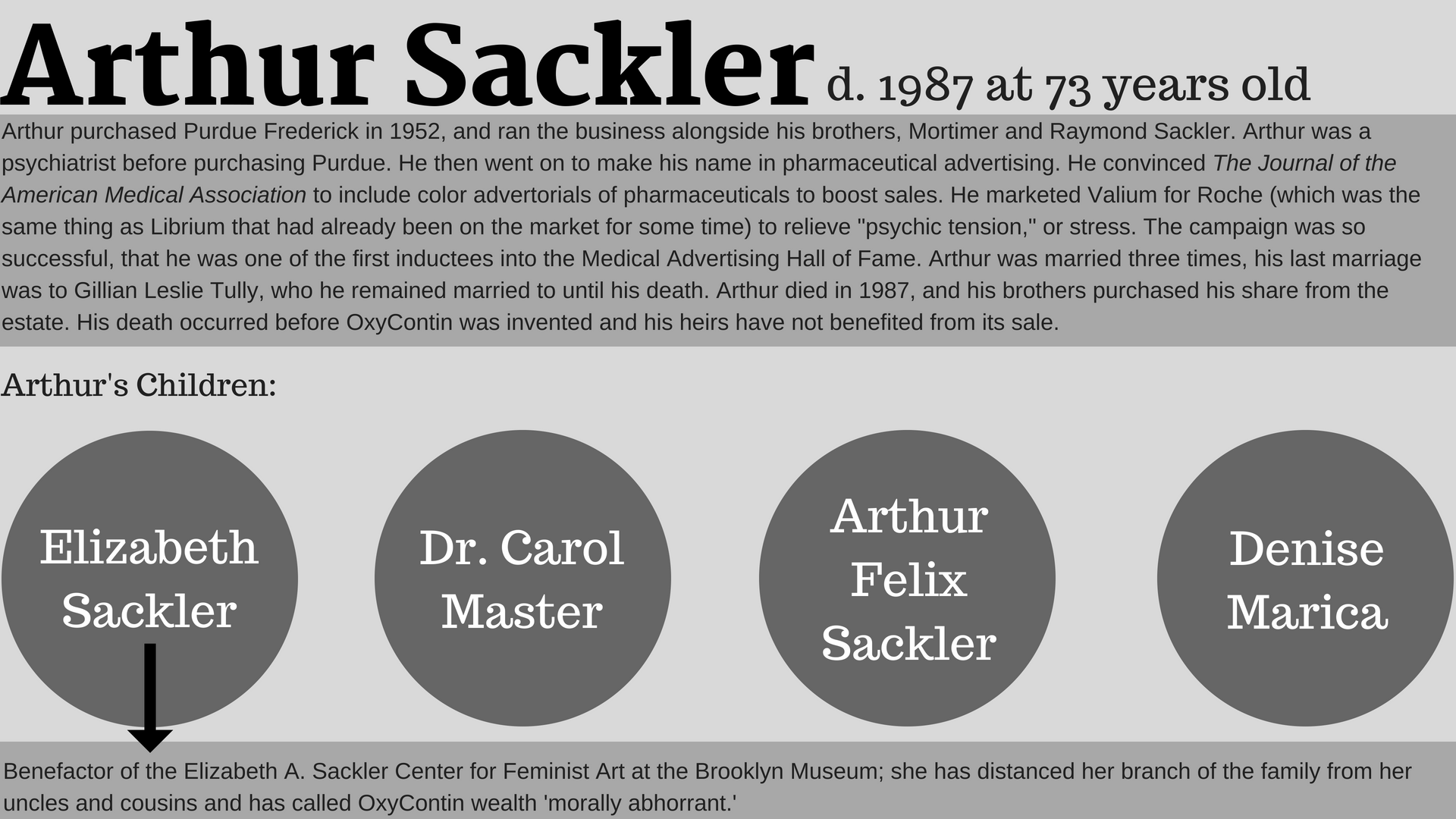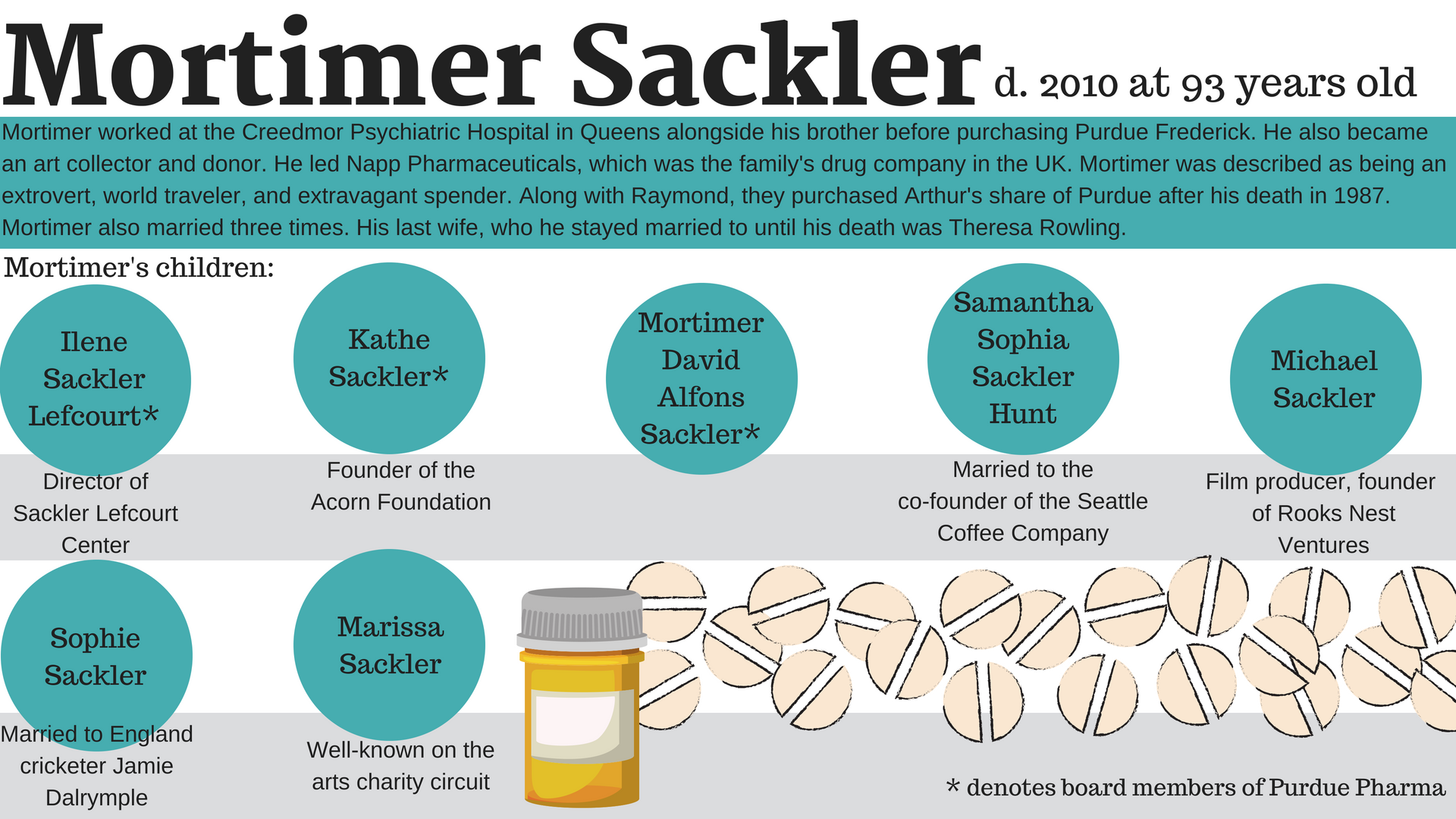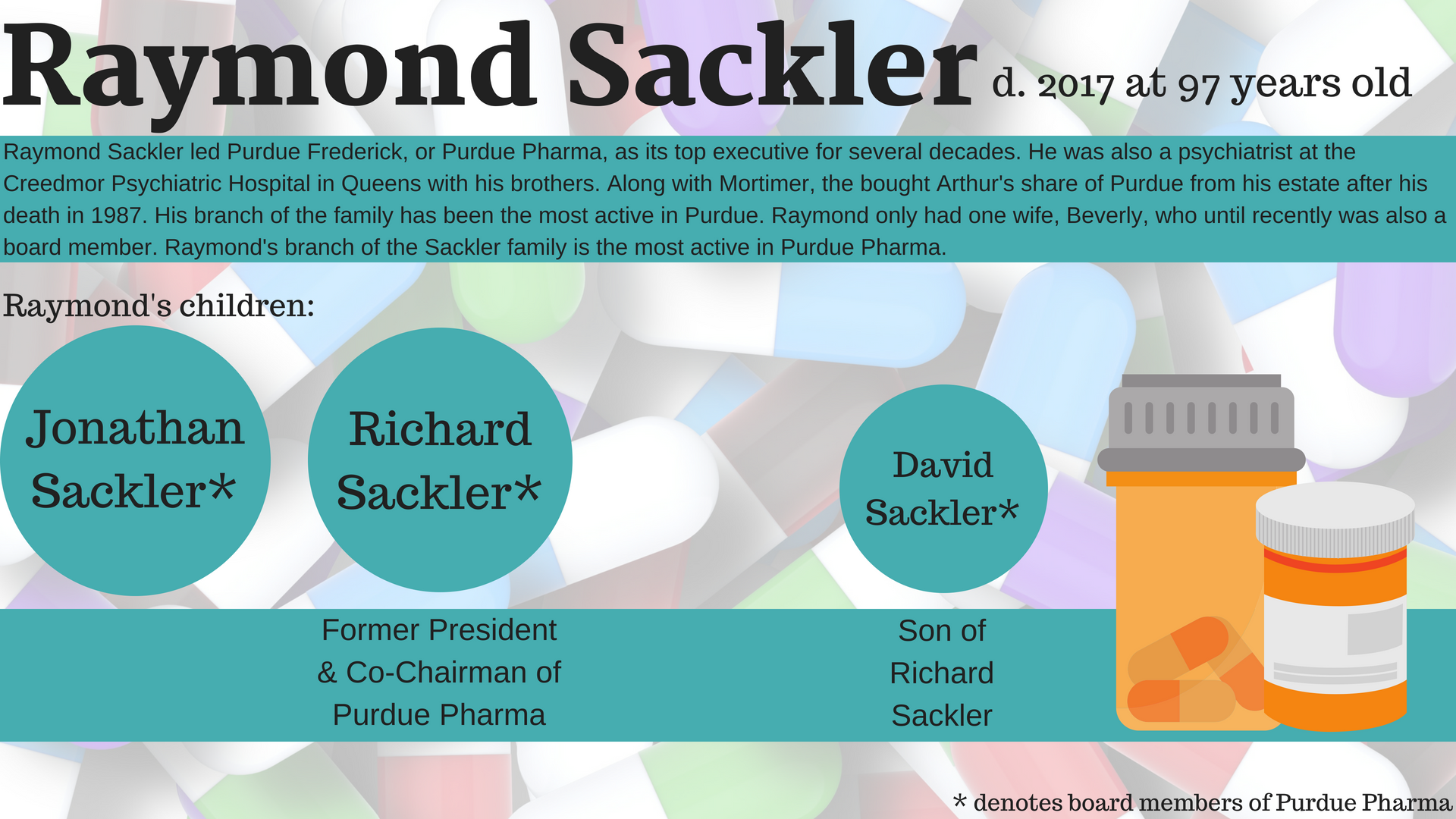 Purdue Pharma's Company History, pre-OxyContin:
1892: Purdue Pharma was originally known as Purdue Frederick, which was founded in 1892 on New York's Lower East Side. Most of its revenue came from selling patent medicines, such as Gray's Glycerine Tonic. This sherry-based liquid was marketed as a remedy for everything from anemia to tuberculosis.
1952: Arthur Sackler and his brothers acquired Purdue. Initially, Purdue specialized in over-the-counter remedies, such as laxatives and ear wax remover.
1960's: Arthur was contact by Roche. They needed an advertising strategy for Valium, a new anti-anxiety medication. But how would they advertise a drug that was basically identical to Librium, which was already on the market and had the same effects? Valium was positioned as an elixir for a problem that Arthur called "psychic tension." Psychic tension is today's equivalent to the word stress, and was the cause of such conditions that including heartburn, insomnia, gastrointestinal issues, etc. This advertising strategy was so successful that Valium then became America's most widely-prescribed medication. This strategy also rewarded Arthur as one of the first to be inducted into the Medical Advertising Hall of Fame.
1966: Purdue acquired Betadine, an antiseptic used to prevent infection. It was purchased in mass quantities by the US government to help wounded soldiers in Vietnam.
1972: A London doctor approached Napp Pharmaceuticals (the UK branch of Purdue) about making a time-release, long-acting morphine pill. The doctor was looking for ways to let dying cancer patients sleep through the night without an IV.
1981: Napp introduced the time-release, long-acting morphine pill in the UK.
1986: Two doctors wrote that long-term opioid use (based on a study of 38 patients) was safe and effective as long as there was no history of drug abuse by the patient. Raymond's son, Richard, then began looking for new ways to use MS Contin's time-release capabilities. Morphine had become associated with death and dying, therefore making it unpopular, plus its patent was set to expire.
1987: The same pill that was released in the UK in 1981 was released in the US under the name MS Contin. MS Contin was then the go-to for cancer patients. Soon after, it had found a use for treating chronic pain.
Then along Came OxyContin…
1990: Robert Kaiko, VP of clinical research, suggested using oxycodone to create a pill. It was 50% stronger than morphine, and doctors at that time believed it was less powerful.
1996: OxyContin hit the market, and by 2003, they were selling $1.6 billion of OxyContin alone annually. Purdue Pharma had told doctors that the drug had a low addiction rate due to the fact it was a time-release medication. But that was clearly not the case. It was marketed as a safer alternative to morphine. Sales reps admit to being told to "sell, sell, sell," and downplay the addiction risks. They provided kickbacks to everyone in the distribution chain. But it was the doctors who got the most attention with being flown to 'seminars,' which were actually just golf trips.
1996 – 2001: The number of prescriptions written for OxyContin went from 300,000 to nearly 6 million. Then came reports of abuse in West Virginia, Maine, Florida, and more. As Purdue faced criticism, they tried several things to improve OxyContin. They gave doctors tamper-resistant prescription pads, they replaced stolen pills free of charge, and launched a national monitoring program called RADARS. However, critics felt this still wasn't enough. The issue was with the strength of the prescription, which was quite a bit more than what was being prescribed for Percocet. The medication wasn't lasting a full 12 hours either. Patients would experience 6 – 8 hours of relief, followed by a crash. Instead of changing the dose frequency, sales reps were told to tell doctors to "just increase the strength of the dose." (Starting to understand the song Drug Dealer by Macklemore now?) After a lawsuit, Purdue reformulated OxyContin so that it was harder to snort or inject.
Here are some facts and stats about OxyContin: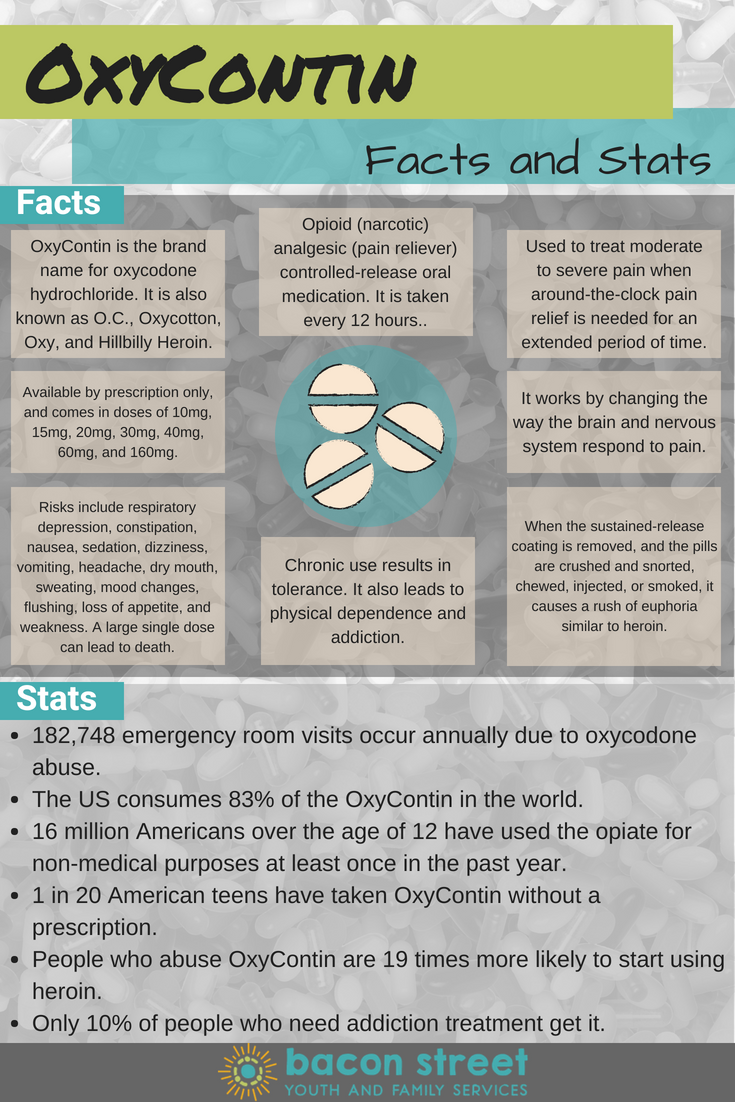 Other things that Purdue Pharma manufactures include:
Prescription opioids:
Butrans (buprenorphine) Transdermal System CIII
Hysingla ER (hydrocodone bitartrate) extended-release tablets CII
OxyContin (oxycodone HCI) extended-release tablets CII
Sleep:
Intermezzo (zolpidem tartrate) sublingual tablet CIV
Laxatives:
In 1955, Purdue introduced the first Senokot brand laxative.
In 2002, Purdue began offering Colace and Peri-Colace (now called Colace 2-in-1) to treat occasional constipation. Colace Clear, the first dye-free stool softener that is also gluten-free was introduced in 2015.
Antiseptics:
Betadine has been used in both homes and hospitals worldwide for more than 50 years. It includes a First Aid Solution and First Aid Spray to prevent infection in minor cuts, scrapes, and burns.
Dietary Supplements:
SlowMag is a magnesium supplement with high absorption magnesium chloride plus calcium which helps support healthy muscle function.
Let's Talk About the Lawsuits…
2004: West Virginia Attorney General sued Purdue for reimbursement of "excessive prescription costs" paid by the state. The reasoning comes from a problem discussed above. Patients had to take more of the drug because it was not lasting the full 12 hours, so the state charged Purdue with "deceptive marketing." The case never went to trial, and Purdue settled with the state out of court by paying $10 million to programs that discourage drug abuse. All evidence from the case remained sealed and confidential.
May 2007: The federal government stepped in. Purdue had pleaded guilty to felony charges of misleading the public about oxyContin's risk of addiction. They admitted that they had lied to doctors about OxyContin's abuse potential. The company paid $600 million in fines. Three top executives also had to personally pay out $34.5 million each and do 400 hours of community service. However, the Sackler name did not appear on the lawsuit.
October 2007: Kentucky officials sued Purdue because of the widespread OxyContin abuse in Appalachia. The case was settled 8 years later on December 23, 2015. Purdue paid the state $24 million.
January 2017: The city of Everett, Washington sued Purdue for increased costs for the city from the use of OxyContin as well as Purdue not intervening when they noted odd patterns of sale of their product, per their agreement from the 2007 lawsuit mentioned above. The allegations and basis of the case were that doctors were creating false clinics and using homeless people as "patients" to purchase OxyContin, which they would then sell to the citizens of Everett. No intervention was made by Purdue to contact the DEA for several years, even though they knew of the practice and overuse and sale of their product. The suit was asking for a yet to be determined reimbursement for costs of policing, housing, health care, etc. as well as to the loss of life or compromised quality of life of the citizens of Everett.
May 2018: 16 lawsuits by US states and Puerto Rico have already been filed. 6 additional states (Florida, Nevada, North Carolina, North Dakota, Tennessee, and Texas) also filed lawsuits charging Purdie with deceptive marketing practices. 3 other states (California, Massachusetts, and New York) also have lawsuits in the works.
Why now?
More than 200,000 people have died from OxyContin overdoses, as well as from other prescription painkillers. Thousands more have died after starting on a prescription opioid and then switching to illicit drugs, such as heroin, because it has a much lower street price. While not all of the deaths can be attributed to OxyContin, Purdue Pharma was the first to achieve a dominant share of the market for their long-acting opioids. In fact, it is their opioids that accounted for more than half of prescriptions by 2001. OxyContin, the pill that was stronger than morphine, sparked the opioid crisis. States are now seeking accountability from Purdue, especially since they have previously admitted to deceptive practices.
Purdue Pharma isn't just getting flack from the government either. Knowing who the Sacklers are, many have called for protests of educational institutions and art museums that bare the Sackler name. And there are a ton. The Sackler Courtyard at London's Victoria and Albert Museum, a courtyard made of 11,000 white porcelain tiles. There is also the Sackler Wing at New York's Metropolitan Museum of Art. It is here that the Temple of Dendur is housed, which is a sandstone shrine from ancient Egypt. You will also find Sackler wings at the louvre and the Royal Academy. There are standalone Sackler museums at Harvard University and Peking University. There are galleries with the Sackler name at the Smithsonian, the Serpentine, and Oxford's Ashmolean. Even the Guggenheim in New York features the Sackler Center. The American Museum of Natural History has a Sackler Educational Lab. And there's more. There is the Sackler Staircase at the Berlin's Jewish Museum, the Sackler Escalator at the Tate Modern, and Sackler Crossing in Kew Gardens. There is even a popular species of pink rose named after a Sackler. As well as an asteroid! The educational institutions include the Sackler Institute for Nutrition Science, which does research on obesity and micronutrient deficiencies. There are also Sackler institutes at Cornell, Columbia, McGill, Edinburgh, Glasgow, Sussex, and King's College London.
In June of 2018, a sculpture of a bent spoon was placed outside of Purdue Pharma's headquarters in Stamford, Connecticut. In March, a protest also occurred at the Met in the Sackler Wing. Protesters held up banners and threw pill bottles labeled OxyContin into the wing's reflecting pool.