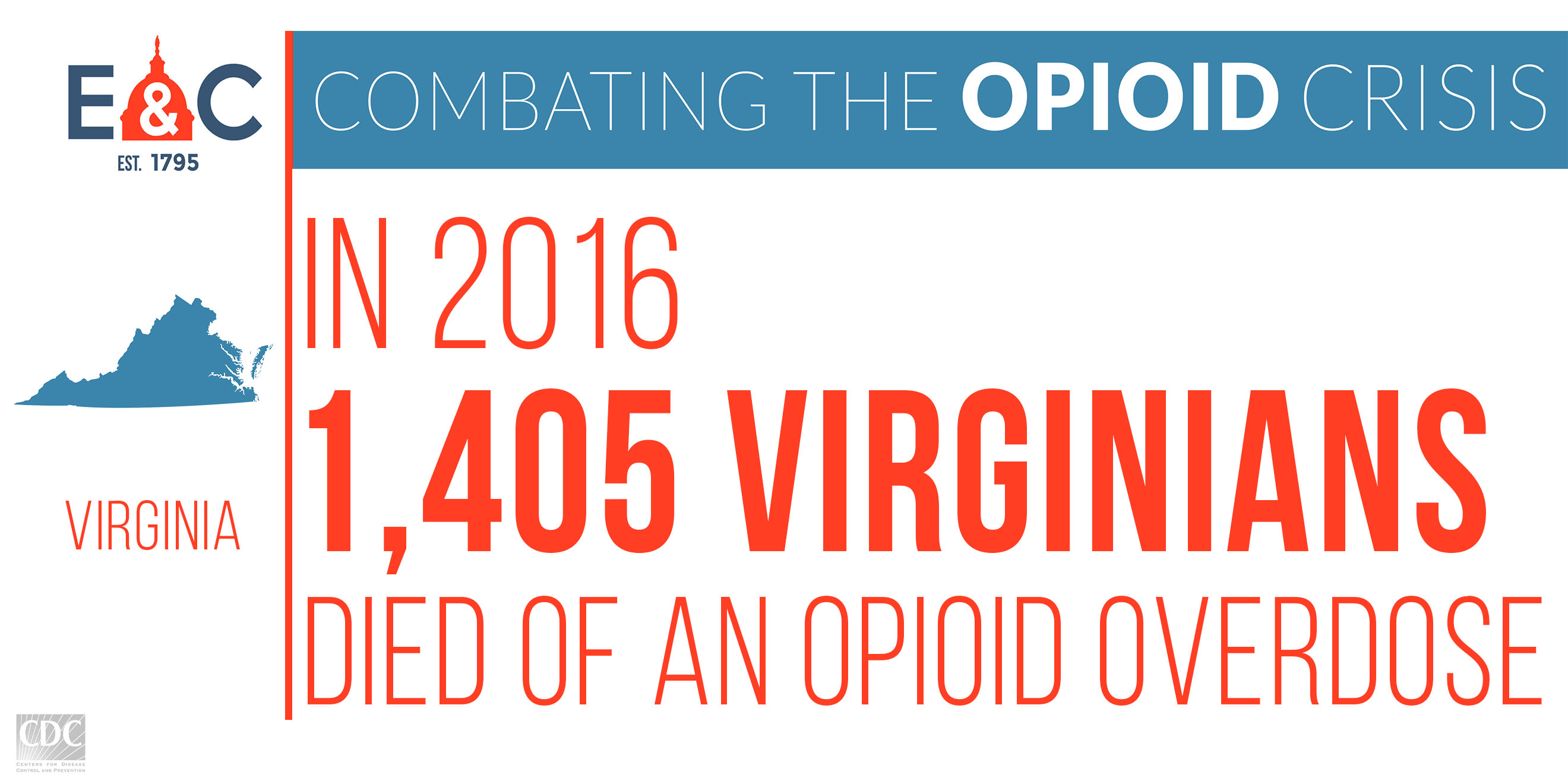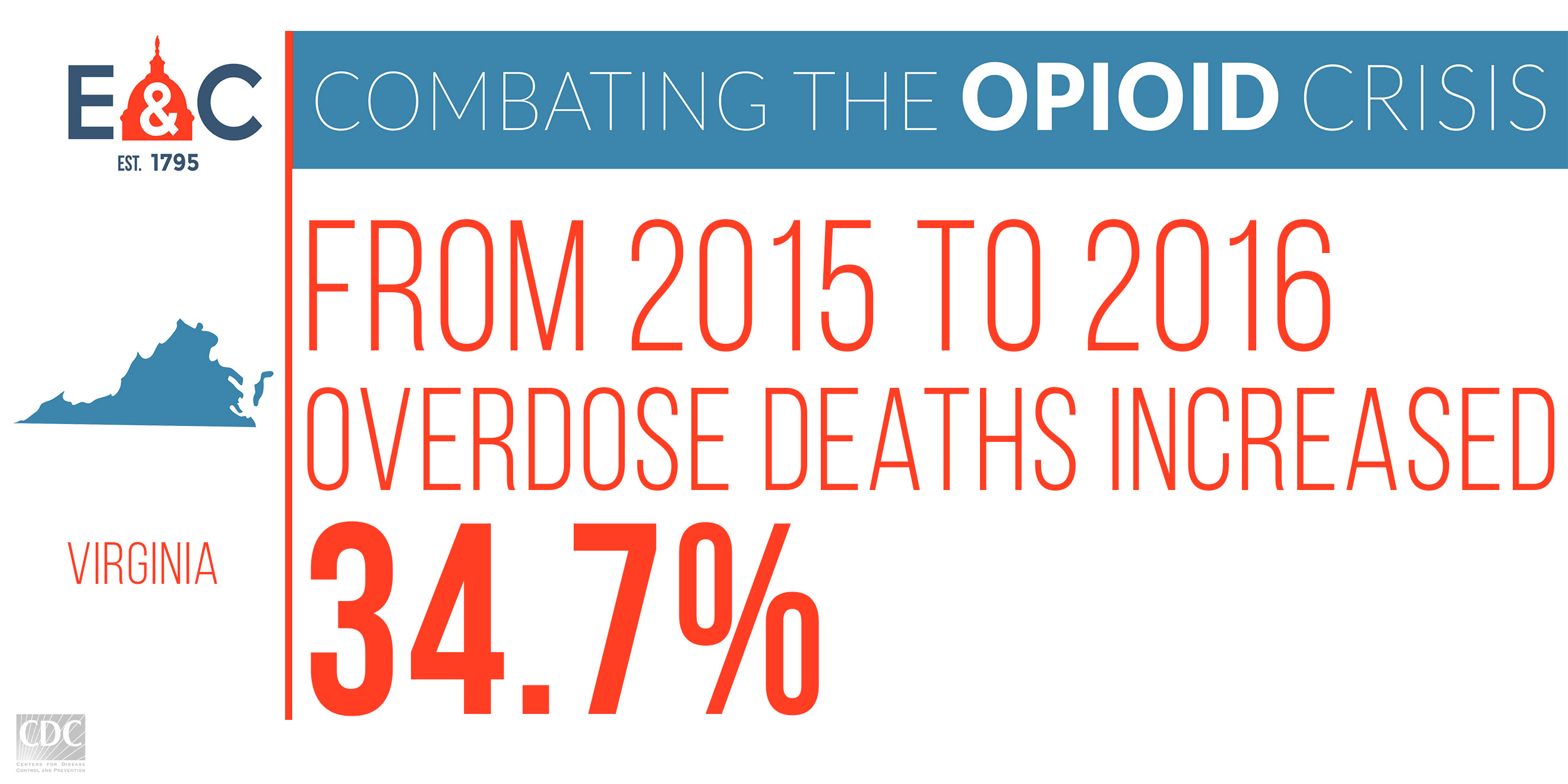 "Addiction kills more than 115 Americans a day." – USA Today
"Nearly 64,000 opioid overdose deaths were recorded in the United States in 2016, the highest number recorded in a single year." – Centers for Disease Control and Prevention, December 2017
"Emergency room visits for opioid overdoses rose by 70% in the Midwest and 30% in all parts of the United States from July 2016 to September 2017." – Centers for Disease Control and Prevention, March 2017
In April of 2018, the Energy and Commerce Committee held a roundtable to hear personal stories from the opioid epidemic. The panel consisted of both family members of addicts and former addicts in recovery. They shared how their families or themselves had struggled or lost loved ones to substance abuse. For videos of those stories, visit: https://energycommerce.house.gov/opioids/
With those staggering statistics and stories of addiction, the fight against the opioid epidemic is heating up at the federal level. In May, the Energy and Commerce Committee advance 57 bills (that's right, 57!) to help combat the opioid crisis. These bills are expected to be considered on the House floor on the weeks of June 11 and June 18. Continue reading for a recap of some of these bills.
Jessie's Law
Jessie Grubb died of an opioid overdose at the age of 30. Originally from West Virginia, she was in Ann Arbor, Michigan recovering from a seven year heroin addiction. She was getting clean and getting her life back on track. In February 2016, she underwent hip surgery due to a running injury. At that time, she was only in Ann Arbor and clean for about 6 – 7 months. Jessie's parents did inform the hospital that she was a recovering addict, but that message did not make it to the doctor who discharged her. Jessie left the hospital with a prescription for 50 oxycodone pills. She overdosed the next day. It is believed that she crushed the pills, mixed them with liquid, and injected them into an IV port.
Jessie's Law, a bipartisan bill, was introduced in the US Senate by West Virginia Senators Joe Manchin and Shelley Moore, with the help of Jessie's parents David and Kate Grubb. The bill would require the US Department of Health and Human Services "to establish best practices for hospitals and physicians for sharing information about a patient's past opioid addiction, so that we can avoid this situation in the future. Physicians and nurses would have access to a consenting patient's complete health information before making decisions about their treatment.
HR 4275, Empowering Pharmacists in the Fight Against Opioid Abuse Act
US Representative Buddy Carter (R-GA) has introduced this bill. He is the only pharmacist serving in Congress and has said "the opioid epidemic needs legislation that empowers his industry." This bill would require the Drug Enforcement Administration to develop and disseminate both training programs and materials for pharmacists. It will include the circumstances under which "a pharmacist may refuse to fill a controlled substance prescription that they suspect is fraudulent, forged, or indicative of abuse or diversion; and federal requirements related to such refusal."
H.R. 5329, The Poison Center Network Enhancement Act of 2018
US Representative Susan Brooks (R-IN) has introduced this bill. Representative Brooks has said that local poison control centers are "already on the frontline with the opioid epidemic with 9,039 exposures reported to these centers in one month alone." In just one day, they field about 192 cases of opioid misuse and abuse.
This bill would reauthorize and enhance the national poison control center toll-free hotline and create a nationwide public awareness campaign (media) and grant program. It also amends the Public Health Service Act to clarify that poison control centers could be utilized for assistance during public health emergencies. Additionally, H.R. 5329 proposes establishing text-messaging capabilities; requests the Federal Communications Commission (FCC) cooperate with the U.S. Department of Health and Human Services (HHS) to ensure calls to the toll-free number are properly routed; and would call on HHS to implement systems to route calls based on location to expedite responses, according to information provided by Brooks' staff.
Indexing Narcotics, Fentanyl, and Opioids (INFO) Act
This bill was introduced by US Representative Bob Latta (R-OH). This bill would establish one large electronic database; a one-stop shop for healthcare providers, state and local governments, advocates, and law enforcement to access information all in one place. According to Latta's website, "The information would be used to help federal, state, and local officials develop the most effective strategies to prevent addiction, treat those that are addicted, and keep prescription drugs from falling into the wrong hands. The INFO Act would also track federal funding being used to combat the epidemic." This helps those who are struggling to access information and funds to combat the opioid epidemic in their need to search and apply for federal grants.
H.R. 4684, the Access to Quality Sober Living Act
This bill was created by US Representative Judy Chu (D-CA) and co-sponsored by US Representative Mimi Walters (R-CA). This legislation helps ensure that patients are getting in safe and qualified facilities that provide quality care and support. It cracks down on rehabs that practice patient brokering, effectively selling patients to the highest bidder, as well as other scams that seem to plague sober living facilities. According to Representative Walters, "The Access to Quality Sober Living Act will develop best practices for recovery facilities to ensure patients receive quality care that puts them on the road to recovery." The Substance Abuse and Mental Health Administration (SAMHSA) would develop, publish, and disseminate the best practices for operating recovery housing.
H.R. 1925, the At-Risk Youth Medicaid Protection Act
This act would allow for a more timely provision of addiction treatment services for juveniles released from county correctional facilities, which would reduce overdose death. This would allow for counties to provide effective treatment and care coordination services pre- and post-release.
For more information on the other bills advanced to the House for voting, visit: https://energycommerce.house.gov/news/press-release/ec-advances-57-total-bills-to-combat-the-opioid-crisis-clearing-path-to-house-floor/
Sources:
https://www.usatoday.com/story/news/politics/2018/06/12/opioid-crisis-house-vote-bills-fight-painkiller-addiction/692019002/
https://energycommerce.house.gov/opioids/
https://susanwbrooks.house.gov/media-center/in-the-news/brooks-introduces-bipartisan-bill-to-brace-america-s-poison-control-centers
https://latta.house.gov/news/documentsingle.aspx?DocumentID=398526
https://walters.house.gov/media-center/press-releases/rep-mimi-walters-cosponsors-bill-improve-sober-living-facilities-and